Prometheus's Fire Abstracts
Late Renaissance Humanism and the Dublin Scientific Tradition (1592-1641)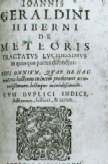 Title page "De Meteoris" (Paris 1613) by the Dublin Jesuit C. Hollywood published under his family name, John Geraldine.( Click on image to enlarge ). Courtesy of TCD
This scholarly work is rooted in the analysis of early scientific manuscripts and printed works available in the Trinity College Library. These were mostly located there as a result of their being confiscated from Catholic educational centres in Dublin, which had flourished briefly in the relatively favourable climate of the 1610s and 20s.
There were Irish colleges abroad, in France, Spain, Italy, Portugal and Spanish Flanders, and these were in touch with Renaissance science. An important link was Domingo de Soto, a Spanish Dominican, who was known to Galileo. Scientific books and manuscripts of de Soto and his disciples found their way to the Jesuit college in Dublin, which was associated with the name of Christopher Hollywood SJ. Hollywood controversed on theological matters with Archbishop Ussher. Hollywood however can be regarded as among the founding fathers of the Irish scientific tradition; his book, 'De Meteoris' was published in Paris in 1613, treating tides, the rainbow, and the motions of the planets on the Ptolemaic system. This was at the time when the Jesuits had a scientific mission to China.
Also among the founding fathers were the elite of the colonial culture concentrated in TCD: Ussher, Lydyat and Carpenter. Lydyat in his ''De Natura Coeli' published in 1605 attacked strongly the Aristotelian system, and was a supporter of Tycho Brahe. The Copernican system was slow to become generally accepted, but Carpenter and Ussher made the issues known to the Irish-based scientific community, and Ussher produced the first account in Ireland of the Keplerian heliocentric system. He has been unduly belittled for his biblical chronology, to which he had, after all, applied scientific understanding of eclipses, which he related to the written evidence.
Another contribution to the understanding of early science in Ireland was the editing of the work of John Duns Scotus by Luke Wadding, at the Irish Franciscan College in Rome. The work of Duns Scotus, who was an early mediaeval supporter of the heliocentric system, were known to Ussher.
This promising early linkage between Irish intellectuals, both native and colonial, and the European scientific renaissance was cut short in the 1640s, in the context of the European religious wars, which assumed catastrophic intensity in Ireland during the Cromwell period.
---
Some navigational notes: In most browsers, if you click on the 'Back' button, it will bring to to the point of departure in the document from which you came. Additional navigation options of local relevance are given at the foot of each page, thus:
[Top of Page] [{Prometheus Contents ] [Tyndall Publications ]